Return to Headlines
Principal's School Closure & Distance Learning Messages
---
---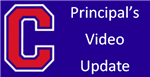 CLICK THUMBNAIL ABOVE TO VIEW
---
---
March 20, 2020
Good Afternoon Campolindo Community:
As our first week of the campus closure comes to an end, I want to thank you for your patience and flexibility as we navigate through difficult circumstances. We are still in our initial phase of distance learning and I have been impressed with how teachers and students have started to transition to this new approach to learning. Challenges certainly exist and I am working closely with AUHSD Leadership to hone and refine our distance learning program. On Monday, March 23, AUHSD Leadership will provide additional guidelines and resources for distance learning. I am confident that Campolindo will continue to provide rigorous, standards-based educational programming that prepares all students for college and career.
Staff from the Wellness Center have developed a collection of excellent resources for coping and thriving during this difficult time. These resources are relevant for both students and parents: Wellness and Mental Health Resources.
Over the past week, Campolindo staff have served hundreds of free meals to community youth, regardless of family circumstances. This free lunch program for community youth will continue for as long as necessary. Thank you Campo Cafeteria, your lunch program is amazing.
I am meeting with leaders from the Campolindo Parents Club next week to develop post-closure plans for partnering with the parent/guardian community. I am also meeting with students from the Leadership Program to help implement their amazing ideas for maintaining a sense of school community.
Thank you for your continued support of Campolindo.
Sincerely,
John Walker
Principal
---
---
March 16, 2020
Dear Campolindo Community:
Earlier this evening, Superintendent Nickerson emailed a school closure update to all AUHSD families: Superintendent's Update 3.16.20. Today's shelter-in-place order from County Health Services will bring new challenges and I thank all of you for your patience as we work to adjust to our new routines.
After meeting with the District Administration, we agreed that during these challenging times, our organization's primary purpose is to ensure that our students stay healthy and academically engaged. Campolindo will continue to be a resource to the community as we provide education, student support, and food services.
Education
Our 3rd Quarter came to an end on Friday, prior to the school's closure. Teachers are working to finish 3rd Quarter grades and these grades will be posted next week. As we enter into the 4th Quarter and engage in distance learning, teachers will update their School Loop pages with introductory information and basic assignments to ease us into this new mode of teaching and learning. Our teachers remain committed to bringing content to students while being mindful of student stress. All teachers are available via email during regular work hours.
Essential Materials
Wednesday, between the hours of 8:00am - 3:00pm, students may come to campus to retrieve essential items needed during the school closure. No new materials will be distributed this week. Any student needing a laptop may come to Campolindo's Technology Office on Wednesday to check out a 1:1 device. Additional materials such as new novels will be distributed at a later date.
Support
Student support is at the core of Campolindo's mission. Staff from the Special Education Department, Counseling Department, and Wellness Center are establishing new strategies for providing support and services. Special Education teachers will establish regular check-ins with students on their caseloads to ensure that students have necessary accommodations. Counselors will continue to hold grade-level appointments with students using online conferencing. Wellness Center staff will continue to be available for students in need.
Food Services
I am proud to announce that Campolindo High School will be a lunch distribution center for community children, regardless of their family's income or situation. A free lunch will be served to those under 18 through the cafeteria windows starting this Wednesday, 11:00am - 1:00pm.
Communication
Frequent communication will be vital during the school closure. Updates will primarily come through email and posts to the CHS website. If you need to contact a staff member, please use email. School offices are closed and not all phone lines will be monitored.
With the new shelter-in-place guidelines, we must all do our part to ensure the health of our community. I am confident that Campolindo students, parents/guardians, and staff will rise to the occasion. Thank you for your continued support of Campolindo.
Sincerely,
John Walker
Principal
---
---
March 13, 2020
Dear Campolindo Community:
All Campolindo High School families should have received an email from Superintendent John Nickerson announcing the Governing Board's decision to temporarily close all AUHSD schools: Monday, March 16 - Friday, April 3. Closing school is never easy; however, maintaining the health and safety of students and staff is our highest priority.
On Monday, March 16, the campus will be completely closed to students, staff, and parents/guardians. I will work with other AUHSD Principals and District leaders on Monday to finalize the steps necessary to ensure that excellent educational programming continues for all students. Additional communications will follow on Monday with details about accessing school materials and opportunities for distance learning.
Campolindo High School has outstanding students, supportive parents/guardians, and an excellent staff of educational professionals. As we navigate the impacts of COVID-19, I am confident that our community will rise to the challenge. I encourage all families to continue monitoring recommendations from public health agencies regarding steps to stay healthy.
Thank you for your continued support of Campolindo High School.
Sincerely,
John Walker
Principal