Return to Headlines
Red C Rising - Celebrate Community!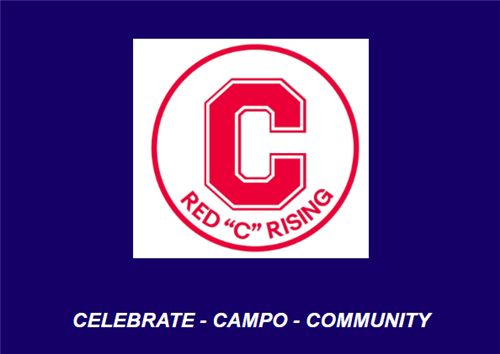 HELLO CAMPO CLASS OF 2020 FAMILIES,
We are coming into the home stretch! Although the ending of this school year may not look at all how we had hoped, there remains a lot to "C"elebrate and "C"ommemorate! Week 6 of our Plan "C" Campaign is all about kicking off the "C"elebration. There is a lot of important information to share about the coming weeks' activities. Please take the time to read through
this communication as it contains important details on:
● Cap & Gown Pick-up
● Memory Board Drop Off
● Ordering Graduation Leis
● Time of Reflection
● Campo Strong; "C"heer On
● Graduation
CAP & GOWN PICK-UPMEMORY BOARD DROP-OFF
THURSDAY, MAY 21
2 PM - 4 PM
BACK (SENIOR) PARKING LOT (note this is updated from previous communication)
Come see some classmates in cars, see some teachers and feel the Campo Red "C" Spirit!
TO DO AHEAD OF TIME:
● Make sure you read the email from John Walker, sent on May 14th, where he outlined
the details for this event. Click here to access.
● Have your senior decorate his/her car for the Best Decorated Car Contest (to be judged by Campo teachers)
● Complete your memory board
● Take a photo of your completed memory board and email to Eric.moore20@auhsdschools.org by Wednesday, May 20 to be included in the memory
board video
● Make sure your child's name is on the back for your memory board
● Make an 8.5"x11" sign with your student's LAST NAME, FIRST NAME printed clearly, in large letters for your car window
INSTRUCTION FOR DAY OF:
● This will be a drive-thru event
● Arrive at the back/senior parking lot during your designated time
○ 2:00-3:00 pm – Students with the last name A-L
○ 3:00-4:00 pm – Students with the last name M-Z
● Place the 8.5"x11" sign with your name on the passenger side dashboard, so that it is easily visible
● There will be two entry points and two exits, pick a lane and drive forward.
● Volunteers will place your cap & gown plus a surprise "c"elebration gift in your car and will collect your memory board.
If you have not placed a cap & gown order, please contact Martin Oliveira at Jostens to request a Late Order Form. His contact information is (925) 838-1835 or martin.oliveira@jostens.com.
MEMORY BOARDS
We are going to display the memory boards in two ways this year, virtually and at the graduation ceremony on June 2nd. Please complete the memory boards by May 20th and follow these steps:
- Please email a clear picture of your student's memory board by May 20th to
Eric.moore20@auhsdschools.org. He will assemble into a slideshow and distribute to the students and parents.
- Please deliver your memory board at the Cap & Gown pick up on Thursday, May 21st.
- REMINDER - Please make sure your student's name is on the back of the board.
If you have pictures, but are struggling with format or need help, Heather Davis has offered to assist. Please email her at gandhdavis@gmail.com.
If you did not receive the memory board instructions, please click here to access a printable copy. If you have any other questions, please Shannon Tague at shantague@gmail.com or Diana Brown at dhbrown67@comcast.net.
ORDER GRADUATION LEIS
Honor your Campo Graduate with a fresh Hawaiian Lei available for pre-purchase only on the Campo Webstore - $25 each. Click here to purchase. Make sure to note your graduate's name when ordering so we get it to the right person and for the transaction to process
(name entry box at bottom of transaction screen on webstore).
All leis will be passed out on campus on June 2. Orders are DUE by Friday, May 22nd at 12 noon. No exceptions.
Questions: Please contact Denise Duff at denise.duff@hotmail.com.
TIME OF REFLECTION
SUNDAY, MAY 24
4:00 PM
Time of Reflection in a non-denominational, student-led celebration featuring student and faculty speakers and musical performances by members of the senior class. Join us in celebration of this very special class as they reflect on their last four years at Campolindo High School.
Although this event will be virtual this year, it will still be a very special and meaningful event for your student. We hope your family will join!
GRADUATIONTHE CLASS OF 2020 RISES!
TUESDAY, JUNE 2
Graduation will be held on Tuesday, June 2nd at the Campo. This will be a hybrid event, allowing the students to walk in small, distanced groups to receive their diplomas, while live streaming video to share with family and friends. The guidelines from the county are strict, so the event will be a blend of pre-recorded and live activities. Speeches and musical selections
will be pre-recorded; however, on the day of graduation, students will come to campus in their
caps and gowns at assigned times to walk across the stage, hear pomp and circumstance and receive their diplomas. Social-distancing regulations will be followed to ensure safety. There will not be any crowds in the stands, but we can watch all of the graduates via a live webcast or a recorded version to be released later.
MORE DETAILS TO COME, BUT PLEASE SAVE THE
DATE TO HONOR OUR GRADUATES! EVENT WILL LIKELY RUN 9AM-3PM WITH TIME SLOT TO ARRIVE FOR ALPHABETICAL GROUPS OF STUDENTS TBA. Please see Principal Walker's full announcement about graduation: Commencement Announcement to Class of 2020.
CAMPO STRONG "C"HEER ON
FRIDAY, MAY 29
6:00 PM
As our seniors finish the last day of high school on May 29th, we do not want to let this day pass without great celebration and acknowledgement! We are asking the entire Lamorinda community to come outside at 6:00pm to CHEER! CHEER for our seniors! CHEER for the end of May! CHEER for hope and for gratitude! Please spread the word to friends, family and
neighbors - we want to make this big and make this loud!
CAMPO "ROCKS!"
CAMPO "ROCKS" - Drop them at Campo by May 25th! You may have seen the COVID painted rocks placed around town with pictures and messages of inspiration. We want to create a Campo Rocks collection on campus to show our spirit, support and love for our School, Class of 2020, Teachers, Admin, Sports Teams, etc. SPREAD THE WORD!
Get a mid-size river rock (available at Diamond K in Lafayette or there are some available at the
bottom of the driveway at 92 Hardie Drive, Moraga (please take just 1-3 rocks each). Here is a link to some samples to inspire you! They can be as simple or elaborate as you want. When you finish, drop them in the bark area to the right of the front circle for display (a few have arrived already - thank you!). They will stay here through the end of the school year, but then will find a permanent home at Campo to always memorialize the strength we all had during this time! We hope to have the biggest, most inspirational rock garden around! #CampoStrong
LEADERSHIP SUPPORT
Campo's leadership class has been putting together videos of senior class footage.
Senior Teaser Video
They would love more video of any sports or event from seniors for the next couple videos.
Please forward footage to: owen.lekki21@auhsdschools.org
They are also organizing slide shows of senior sports, orchestra and musicals for each activity.
They have done Boys Lacrosse and Boys Baseball, and Swimming is forthcoming, but other spring sports should send pics to camryn.sullivan20@auhsdschools.org. If you want to see a sample, please check out @campo.sports.and.activities on Instagram.
CONTINUE TO SUPPORT OUR "C"OMMUNITY
IPAD/TABLET DRIVE TO HELP CONNECT ISOLATED SENIOR CITIZENS: Collecting through May 25th - Lamorinda Village, a local nonprofit created by older adults and supported by volunteers is collecting used iPads and tablets to give to seniors. During this time, e want to make sure the older adults in our community are connected and not isolated as we all Shelter in
Place. We are hoping to help seniors who do not have access to these devices learn to Zoom to
connect with their loved ones and to activities that we are hosting to keep them engaged. If you
have any old devices collecting dust, please drop them off at 22 Kellie Ann Court in Orinda or 88
Shuey Drive, Moraga.
KIWANIS FOOD DRIVE STARTING - ENDS MAY 21ST. There is still time to give locally and
help the food banks through these difficult times! Moraga Valley Kiwanis Club has launched a
campaign to raise a total of $60,000 which would be distributed to three of the local food banks.
Kiwanis will match all donations up to $30,000. More information is contained in this attached
FLYER.
OTHER THINGS TO NOTE
What is Plan "C" and how can I help?
The Plan "C" Campaign is the name of our coordinated effort at Campo to support & celebrate
our seniors during this difficult time. Working with the Campo Administration, Parents Club,
Class of 2020 Advisors, Senior Class Leadership, and the other high school leadership teams,
we have developed a weekly plan of surprises. Here is an overview of what's been done so far
and a sneak peak at what's ahead.
● Week 1: Theme - Campo Pride - Senior Yard Signs
● Week 2: Theme - Community - Red Out
● Week 3: Theme - Connection - Virtual Game Night
● Week 4: Theme - Chillin by the Camp-o-Fire - "C"are Package Delivery
● Week 5: Theme - Club Campo - Teen Vogue Virtual Prom on May 16th
● Week 6: Theme - Celebration - Cap & Gown Pickup on May 21st from 2pm - 4pm
● Week 7: Theme - Commencement - The Last Week of School and Beginning of so Many Adventures!
Each week we will send an email announcing what we are doing and what to be on the lookout
for. Any questions, ideas or want to help? Email president@campoparents.org