Welcome to a general overview providing information and links to resources about the various facets of playing sports at the next level. For more in-depth recruiting and eligibility advice, please contact your individual counselor in the MHS Counseling Office and your coach.

As an introduction to college athletics, it is important to note that it is rare for high school athletes to go on and play 4 years of a collegiate sport. Receiving a recruiting letter and actually playing in college are two very different things. Being a good high school athlete is just the first step to playing in college.

QUIZ: What is the number of Division 1 athletes who will receive a full-ride scholarship for college?

Answer: 0.8%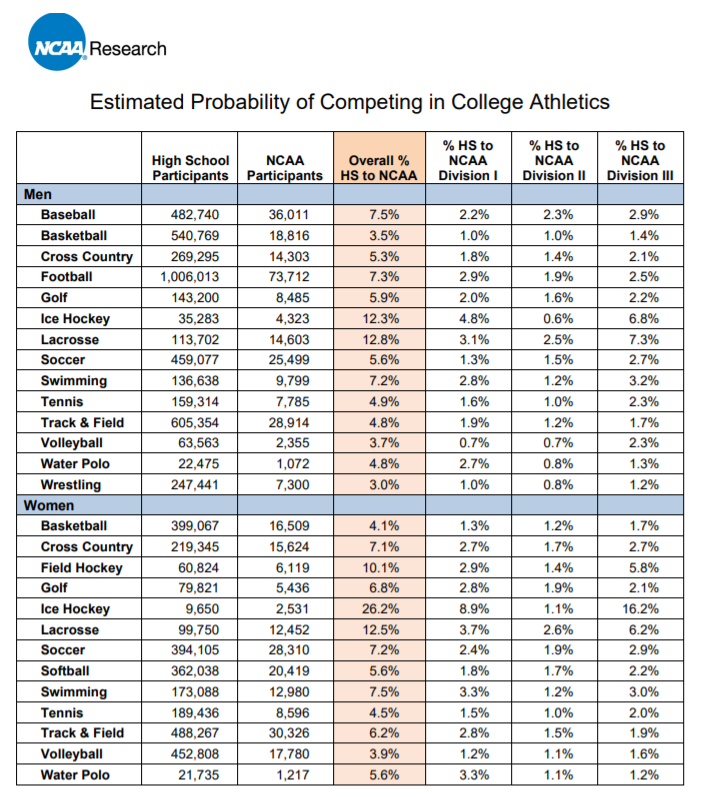 Eligibility

2021-2022 NCAA GUIDE for the College-Bound Student-Athlete.

Register HERE with the NCAA if you may want to play your sport at the next level. You will need to be registered before you can make official visits.

Recruiting

College athletic recruiting is a complex process that varies by sport and by level of play. Many Miramonte athletes play their sport at the club level and are therefore plugged into a well-oiled recruiting machine. Some, however, play a sport that does not operate on a club level or have a coach that is not well versed in the process. Use this as a general guideline to approach your process.

What does recruiting mean?

In college sports, "recruiting" refers to how college coaches fill their roster spots with prospective student-athletes. Different coaches have different needs. In effect, recruiting is the process of finding athletes that will be a good fit for a coach's team before extending an offer to play at the college level. Some coaches need athletes with stronger grades and test scores because their college is academically rigorous. Others need to fill their roster spots according to current positional needs.

How does college recruiting work?

For many families, the most challenging part of the recruiting process is understanding how colleges recruit, evaluate, and show interest in student-athletes. Often, coaches begin the college recruiting process by contacting many athletes they feel would be a good fit for their program. Through evaluations, reviewing highlight videos, and contact with recruits, coaches slowly whittle that number down until open roster spots are filled.

College coaches typically follow specific steps throughout their recruiting process. Knowing these steps will help potential recruits understand where they are in the process and what needs to occur going forward. These steps include:

Gathering a list of prospective athletes

Sending out recruiting letters, questionnaires, and camp invites

Conducting evaluations

Extending verbal offers and scholarships

Signing athletes

Step 1: College coaches gather a large list of prospective athletes who meet basic requirements like height, weight, position, grad year, academics, location, and more. To do so, college coaches utilize the following tools and methods:

Recruiting media sites

Recommendations from high school and/or club coaches

Emails and messages from recruits

Camps and showcases where they can see many potential recruits in one place

As a recruit, look at the college recruiting process like a funnel. Start with a list of programs that would be a good athletic, academic, financial, and social fit for you, and then pare down that list based on your preferences and coaches' interest.

Consider attending camps and showcases held by coaches at schools you're interested in. Get your name in front of college coaches as much as possible through emails, social media, and other ways to contact college coaches. Always include key pieces of information coaches need to conduct their initial evaluation, including your measurables and recruiting video, if applicable.

Step 2: Coaches begin sending out messages to a large group of athletes to determine interest in their program. College coaches send out recruiting letters, recruiting questionnaires, and camp invites to prospects. Athletes who pass the initial evaluation will likely receive one or more of the following:

Requests to complete a recruiting questionnaire

Invitations to a camp

General interest letters from the school

How do college athletic recruiting questionnaires work?

They are school-specific, so the task of filling them out can be arduous. These are forms with fields for basic information that coaches want about potential recruits and are common in college sports recruitment. After coaches send these communications, they evaluate who responds—and consider how genuinely interested each athlete appears—then narrow their list of prospects down to between 500–3,000 athletes, depending on the program's size.

Note that recruiting questionnaires, camp invites, and general interest letters from a school may seem impersonal and not worthy of a follow-up. They serve an important purpose: respond to each coach with a personalized message, thank them for the letter and let them know you are interested in their program. Coaches are very good at spotting generic messages and mass emails.

At this point, many athletes want to know if a college coach is genuinely interested. The answer is usually simple: If you've received mail (or an email) from the coach, they are most likely evaluating you as a recruit. It's in your best interest to quickly follow up to ensure you get to the next step in the recruiting process.

Step 3: College coaches conduct in-depth athletic, academic, and character evaluations. At this stage, coaches need to get to know recruits to create a ranked list of top prospects. Often, they will get in touch with athletes and start calling their high school and club coaches for an evaluation or recommendation. They may travel to large tournaments or showcases where many recruits compete or send athletes personalized invites to their camps. Official and unofficial visits can also happen at this time, as coaches aim to create a solid list of top recruits.

Don't wait for college coaches to start contacting you!

Instead, take the initiative to show them why you deserve to make it to the next round of their recruiting process. Send updated athletic and academic stats and highlight videos with your best and most recent footage. Ask your high school and club coach to reach out to college coaches on your behalf. Let coaches know you're coming to their school for an unofficial visit and that you'd like to arrange a time to meet with them while you're there. In short, advocate for yourself.

Step 4: Coaches extend scholarship offers (for Division 1 and 2; there is no money tied to athletics at the Division 3 level) and lockdown commitments. At this point, coaches have a ranked list of their top prospects and look to lock down commitments.

How do college coaches make offers?

As with every step of the recruiting process, different coaches approach offers in different ways. For large programs (D1 or D2 schools), college coaches typically have a list of 200–300 athletes. Not all those athletes will join the team, but coaches start by extending offers to recruits at the top of their list and work their way down until all open roster spots are filled. Coaches may still conduct on-campus visits at this step—athletes should be prepared to answer if they get an offer.

When can college coaches make you an offer?

It depends on the type of offer! Verbal offers—non-binding, handshake agreements between a recruit and a college coach—can happen at any time or age. However, both the recruit and coach can back out of verbal offers at any point. For example, if an athlete was given a verbal scholarship offer during their freshman year of high school, that offer can still be rescinded by the athlete's senior year. This leaves the recruit in a tough spot if they haven't communicated with any other schools. Offers usually become official when the athlete signs their National Letter of Intent, which typically occurs during their senior year of high school.

Step 5: College coaches sign athletes and ensure academic eligibility.

The last step for coaches is ensuring each recruit signs with their program and meets all eligibility requirements. A typical commitment and signing timeline includes:

The athlete verbally commits to school

The college coach extends an official offer

The athlete signs the official offer

The athlete meets eligibility requirements by taking all the necessary courses and receives the needed GPA in those courses.

Unfortunately, every year, athletes sign with a college but end their senior year ineligible to compete at the college level. This leaves both the athlete and the coach in a tough spot. The coach will need to go back to their list of top prospects and see if the athlete who ranked number two in that spot is still available, interested, and academically eligible. The former recruit will likely need to compete for a year or two at a junior college to gain academic eligibility.

What this means for you:

While it's easy to get caught up in the rush of athletic recruiting and signing with a school, you must stay academically eligible. If you're concerned you may not meet requirements, meet with your counselor and strategize a plan to keep your grades up.

Deeper Dive

When does the recruiting process begin?

The recruiting process begins before a student-athlete has had any recruiting interaction with a college coach. Some sports, like track and field and cross country, tend to recruit closer to senior year when coaches have a better idea of athletes' development. Other sports recruit closer to freshman or sophomore year because athletes develop so quickly. Additionally, for most Division 1 and Division 2 sports, coaches can only start proactively reaching out to recruits on June 15 after their sophomore year or September 1 of their junior year. While coaches can't reach out until those dates, student-athletes can partake in early recruiting by reaching out to college coaches with emails, video, transcripts, etc.—college coaches just can't respond until the rules allow.

It's never too early for student-athletes to research colleges, maintain their grades, update their recruiting video and prepare themselves to hit the ground running when allowed to communicate with college coaches freely. Student-athletes should be ready to get recruited whenever an opportunity presents itself and not scramble when recruiting activity is already happening.

What do college coaches look for when recruiting?

College coaches have different needs for their rosters depending on the level of competition, open positions, academic requirements, and program priorities. With that said, factors typically considered include:

Athletic ability: Ability is usually the most critical factor.

Coach's jobs are dependent on the team securing wins and finding success. College coaches are looking for the best athletes they can sign.

Academics:

Courses and grades are critical. Often, coaches have several recruits to choose from to fill a roster spot. When that happens, coaches are more likely to pick the athlete with stronger grades and test scores because they are less likely to experience academic problems and lose their eligibility. At academically rigorous colleges, it can also be difficult for recruits to get admitted.

Character:

How an at

hlete conducts themselves

is more important than athletes and families realize. 35% of college coaches said character is the most crucial factor when considering a recruit.

Location:

Geography can play a role in recruiting. Successful programs with big budgets may recruit all over the country and even internationally, but smaller programs may only have resources to recruit from certain regions where they have relationships with high school coaches. In this case, recruits from a specific region have an advantage.

College Sports Recruiting Timeline

Different sports, division levels, and programs have different recruiting timelines, but there are similarities across sports. All follow the NCAA recruiting calendar, which outlines different recruiting dates that college coaches must adhere to.

With that said, many athletes across a variety of sports do follow a standard recruiting timeline that breaks down certain activities for each academic year:

Freshman year:

Research different division levels, learn differences in competition, understand NCAA recruiting rules, know measurables for your sport (40-yard dash, vertical jump, etc.) Attend all camps, showcases, and tournaments where coaches will be who you want to see you.

Sophomore year:

Build your athletic resume and online presence, compile highlight videos, contact college coaches at levels that can already recruit (D3, NAIA, junior college). Attend all camps, showcases, and tournaments where coaches will be who you want to see you.

Junior year:

Focus on contacting college coaches, writing letters, making calls, compiling a target list of colleges. Attend all camps, showcases, and tournaments where coaches will be who you want to see you.

Senior year:

Most offers are made by D1 college coaches in junior year. Those who haven't received an offer continue to contact college coaches and be ready to target lower division levels. Attend all camps, showcases, and tournaments where coaches will be who you want to see you.

This is by no means an exhaustive guide to the recruiting timeline. For more resources and guidance, click HERE.

When should you start the recruiting process?

The NCAA recruiting calendar and related recruiting rules are meant to mandate the types of communication that athletes and college coaches can have, outline dates for specific communication, and protect elite athletes from receiving an overwhelming amount of communication from college coaches. When these rules and periods are laid out for each sport, they create a recruiting calendar during which different periods allow certain recruiting activity types. The major periods include:

Evaluation period: College coaches can watch an athlete in person or visit their school. Coaches are not allowed to have in-person contact with the athlete or their parents. During this time, student-athletes usually focus on the following:

Highlight and recruiting videos:

Recruiting videos help potential recruits get on the recruiting radar of college coaches. Coaches rarely start to seriously consider a recruit until they have evaluated their recruiting video.

Attending camps, showcases, and tournaments:

Evaluating recruiting videos is an important step for college coaches, but it is always preferable to see recruits compete in person. College coaches put emphasis on attending events for top recruits.

School visits:

Athletes need to get a feel for the campus, and college coaches need to get a feel for how athletes carry themselves.

Contact period: Communication between college coaches and athletes is allowed. Communication includes emails, texts, phone calls, direct messages, and in-person contact. During this time, student-athletes usually focus on the following:

Emails:

Often, the first step in contacting college coaches is an email. Athletes should take time to craft a personalized message that doesn't look copied. What does it

mean if a college coach emails you? There are different emails that coaches send, and some may not seem personalized. It is always important to respond promptly because a college coach may be interested in you.

Phone calls:

Calling college coaches is a great way to stand out from the crowd and establish a personal relationship.

Texting:

Texting college coaches is not as effective as calling them, but it is becoming an increasingly common form of college recruiting communication.

Social media:

College coaches will check out the social media profiles of athletes they are interested in. Contacting coaches through social media is an excellent way to get on their radar.

Camp invites:

A strong performance during a camp is one of the best ways to show college coaches that you deserve a roster spot, but not every camp invite is the same. What does it mean when a college coach invites you to a camp? Many coaches use camps to generate revenue for their program and divide invitees between campers and recruits that have a shot at making their roster. You'll have to communicate with the coach to figure out if your camp invite is generic.

In-person visits:

When a college coach takes time from their busy schedule to visit a recruit, they are expressing strong interest and trying to learn more about the recruit's character and family. Visits are one of the last steps before an offer being extended.

Dead period: College coaches may not have any in-person contact with athletes or parents. Athletes and coaches can still communicate via emails, texts, phone calls, and direct messages.

Quiet period: Athletes can only have in-person communication with college coaches on their college campus. Athletes and coaches can still communicate via emails, texts, phone calls, and direct messages.

When do college coaches stop recruiting?

College coaches stop recruiting when they have filled their roster. Timing depends on when they started recruiting and how long the process takes. In general, because top athletes often go to D1 programs, they begin recruiting earlier and finish earlier than D2, D3, NAIA, and junior college programs. Colleges at lower levels tend to recruit athletes that colleges have passed over at higher levels, so often colleges at the D3 level recruit later than those at the D1 level. Note this is not always the case, especially for highly-selective academic D3 schools. Some exceptional athletes are seeking a smaller school or more balance between their sport and academics. Learn more about D3 Athletics HERE.

COVID-19

As the college sports community deals with the impact of COVID-19, many college coaches see their recruiting timeline extended to later dates. Still, it's most important to communicate with each coach individually about what their recruiting timeline looks like and when they expect to start and end recruiting. Make it easy for the coaches. Always include your name, class year, email, and mobile number. If submitting a video, make sure you are easily identified in the clips.

The NCAA has removed the SAT/ACT requirement from their initial academic eligibility requirements for the 2022-2023 incoming class. Even though the NCAA might remove testing requirements, individual colleges might still require you to take the SAT/ACT.

Stay up to date on the changing dynamics of recruiting in the COVID era HERE.